Bandhavgarh National
Park
About Bandhavgarh National Park
Bandhavgarh National Park is rightfully called the Land of the Tiger. A famous hunting reserve for the Maharajas who ruled these lands, this area has to this day been preserved for shooting wildlife – with cameras. Come take a Tiger Safari in India with us at Bandhavgarh National Park. 
An almost isolated park, Bandhavgarh National Park has a very few migration routes for dispersed male tigers looking to find a home for themselves, hence, along with suitable habitat and prey-base, it has retained a high density of tigers. Around 60 or so wild tigers are in this area. It is often said that it is the best place to see tigers in the wild in the world.
The Tiger Reserve is spread over 1100 sq.km with a core area of about 440 sq.km. A tiger safari tour in Bandhavgarh National Park, with enthusiastic guides and drivers is a thrilling experience – the routes taken by the tigers of old are taken to this day by their offspring and one can learn about tracking these tigers through the eyes of the locals.
The landscape at Bandhavgarh is also dominated by Sal and Bamboo, however its beauty is truly seen at Tala Zone with its famous grasslands, surrounded almost entirely by large hills whereupon old Forts and Watchtowers have been erected – dating back to the 10th century.
There is also the famous 60-foot statue of the sleeping Lord Vishnu in the middle of Tala Zone – a sight of tranquility in the tranquil Bandhavgarh forest.
The forests though dominated by Sal Trees like at Kanha and Corbett is much drier and this is evident from February onwards moving into summer. There is a good mix of scrub forest as well. Though many might scoff at the idea of bird watching, Bandhavgarh National Park is an excellent birding destination with good visibility of birds. It has a very good population of vultures such as the Indian Vulture, White Rumped Vulture which roost along the cliffs. The Asian paradise flycatcher, Golden Oriole, Indian Pitta as well as the sight of the not so common White-capped Bunting.
Tiger Tours in Bandhavgarh National Park
Explore some of the best Tiger Safari Tours in Bandhavgarh, guided by our expert team…
Hunting grounds for the Maharajas of Rewa in the past, Bandhavgarh National Park is set in a glistening 168 sq. miles (437 sq. kms). Its fame is owed to one of the most enchanting Tigress, Sita, and the most aggressive Tiger, Charger. Every wild Tiger has a short life span for which it remains dominant in the park; though Charger, was something different. He lived an unusually long life and ousted every male Tiger who tried to take over the reins in Bandhavgarh National Park. However, it was only a matter of time when his age gave in.
Two other Tigers B1 and B2, cousins to each other, tried to ambush his territory as he grew older and the latter succeeded. B1 died an uncertain death while B2 ruled as King for the next few years. He became the poster boy for Indian wildlife and put Bandhavgarh at a pedestal for wildlife tourism in India. BBC, Discovery, National Geographic and even Icon Films could not resist but share the stories of these true legends. Their anecdotes continue to resonate the park's silence.
As Project Tiger extended its area of influence, Bandhavgarh National Park was recognised in 1993. The total area of the park was further stretched to include the core zone of 694 sq km and a buffer area of 437 sq km. The new encompassing area was now declared as the Bandhavgarh Tiger Reserve, which today holds some of the most magnificent species of Central India.
Possessing over 300 species of birds such as the Malabar Pied Hornbill and the White Stork, the park also nurtures the many iconic mammals apart from the high population of Tigers. With the Core area divided into three major zones (Tala, Magdhi and Khitauli) one can witness a mix of Gaur, Nilgai, Langurs, Wild Pigs, Spotted and Sambar Deer while on a safari. And if one's lucky, they could even spot the elusive Leopard or a Sloth Bear. 
So, heading out for a tiger safari in this magnificent park would definitely be an enchanting experience for tiger enthusiasts and wildlife lovers. Book yours today!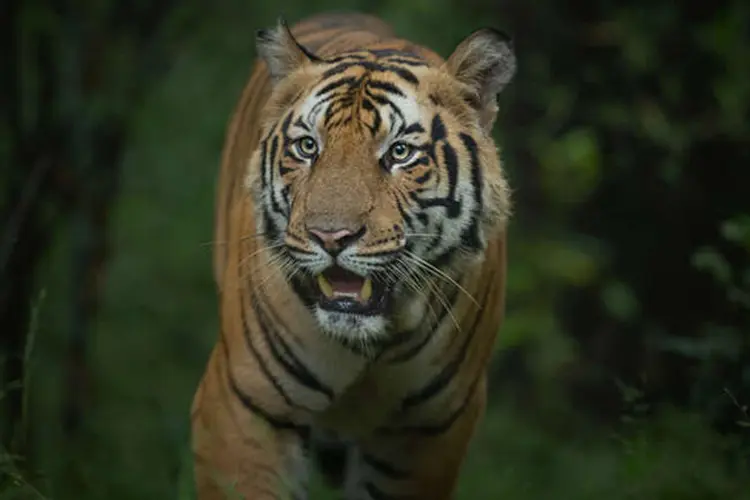 Top Species in Bandhavgarh National Park
Please fill the form below and our team will get back to you within 24 hours with a perfect safari package.