Bandhavgarh National Park and Kanha National Park
Bandhavgarh National Park is spread out over the Vindhya Hills in Madhya Pradesh. The terrain in both areas is different, with steep ridges, rolling hills, forests, and open meadows. The Royal Bengal Tigers are what make Bandhavgarh National Park famous. Bandhavgarh has the most Tigers in one place than any other place in India.
The Maharaja of Rewa used to hunt in what is now Bandhavgarh National Park. Bandhavgarh National Park was famous as a natural hub for white tigers but unfortunately, white tigers became extinct from Bandhavgarh National Park.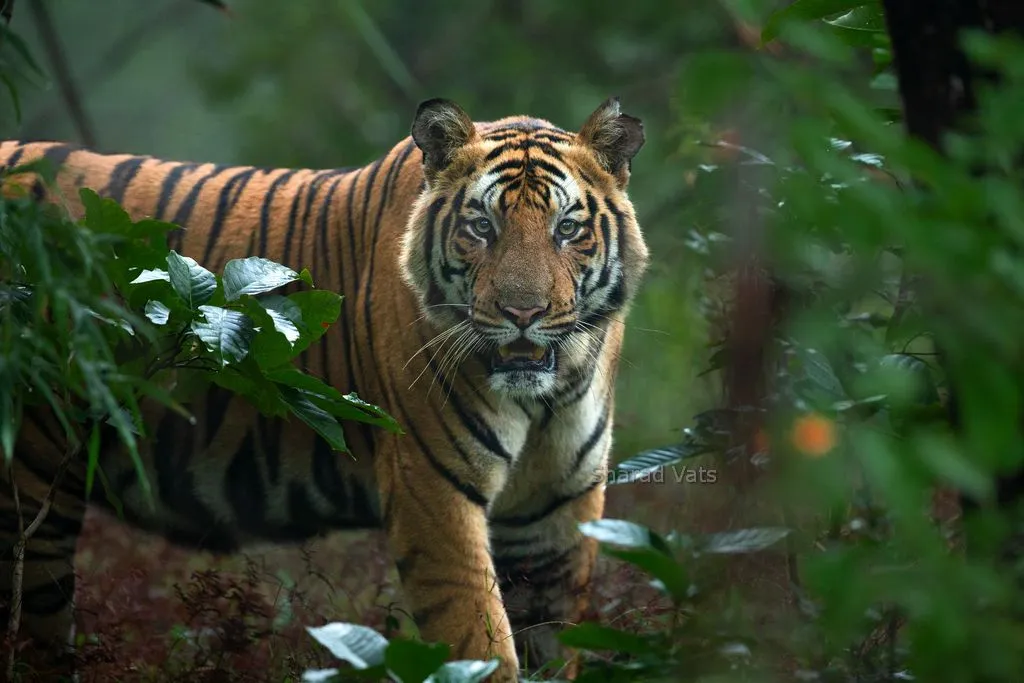 Kanha National Park is in the Maikal range of the Satpuras in Madhya Pradesh, which is in the middle of India and makes up the highlands in the center of the country. People are calling the national park the Tiger reserve, and it is being called one of the best places for wildlife in the world. Kanha National Park is in two revenue districts, Mandala and Kalaghat. In 1879, it was made a reserve forest, and in 1933, it was changed to a wildlife sanctuary. In 1955, it got even better when it became a national park.
The landscapes and surrounding lush meadows, as well as the wooded strands and dense maroons of forests, are great places for nature lovers to go sightseeing. The crystal clear streams in the middle of the dense jungle clean the area and make the wildlife unbeatable. They also make the land more beautiful and cute. Rudyard Kipling, a famous author, got his idea for "The Jungle Book" from this lively land.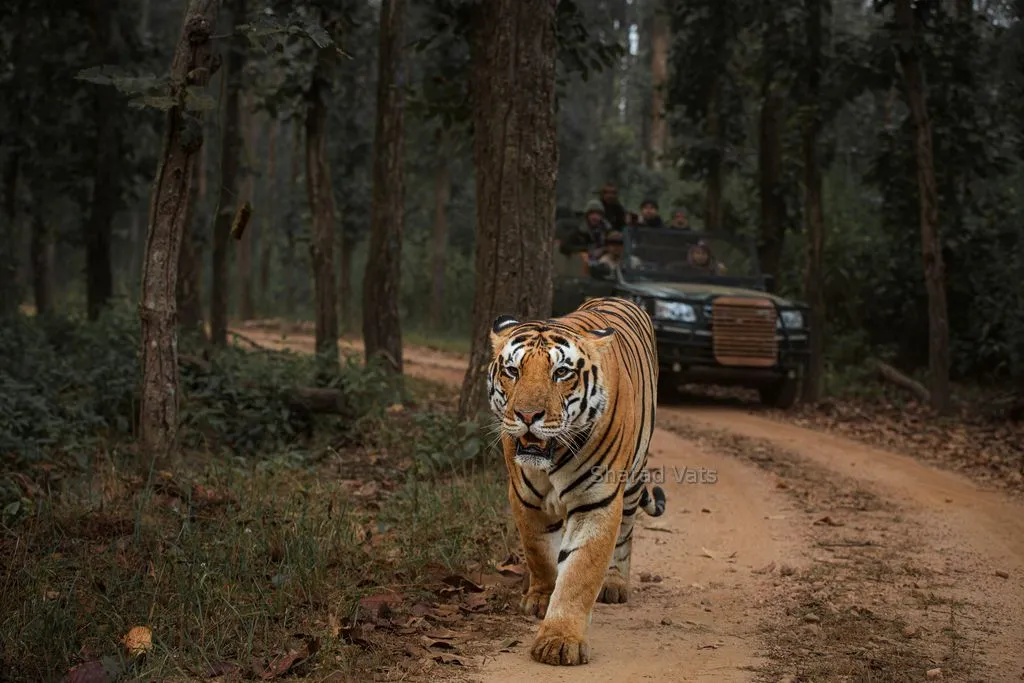 Both national parks provide shelter for many animals, reptiles & birds and together every living organism in these national parks makes a perfect ecosystem. Being situated in the same state, Madhya Pradesh, Bandhavgarh & Kanha Tiger Reserve pack quite a difference.
Nearest Cities & Area
Bandhavgarh National Park was declared a national park in 1968 and has a core area of about 105 square kilometers and a buffer area of about 450 square kilometers. The closest district to Bandhavgarh National Park is Umarai which is 34 kilometers away from the national park. One can reach Bandhavgarh National Park by flight to Jabalpur from Delhi, Mumbai, Ahmedabad or Hyderabad and then drive 180 kilometers(3.5 hours drive) or take a train to Umarai and then drive 34 kilometers(45 min drive).
Compared to Bandhavgarh, Kanha National Park is spread over a vast land area with 940 kilometers square and 1005 kilometers square including buffer zones. If we look at the history, we can see Kanha National Park kept improving and growing. It was declared a reserve forest in 1897 and revalued in 1933 as a wildlife sanctuary in India. Furthermore, in 1955, it was declared as the Kanha National Park.
Kanha National Park is located in the Mandla and Balaghat districts of the Madhya Pradesh state. Kanha National Park is accessible by air, road, and train from the majority of India. Jabalpur is the closest station to Kanha National Park 160 kilometers(3 hours) drive away.
Flora of Bandhavgarh & Kanha
The Forest Department has determined that Bandhavgarh National Park is the most verdant portion of the Umaria district. The vegetation in Bandhavgarh National Park consists primarily of dry deciduous trees, and it is the only location with very diverse flora and fauna. The area has a mild climate and, of course, a desirable topography that uniquely encourages the establishment of a diverse and abundant flora in the park. In addition, the enchanting sceneries are distributed across 32 hills, cliffs, plateaus, and meadows. Bandhavgarh's vegetation consists primarily of Sal woodland in the lowlands and stretches of bamboo on the lower slopes. While half of the forest consists of Sal and Bamboo trees, the Bandhavgarh jungle's most distinguishing feature is the presence of mixed species surrounding the higher slopes, as well as tall grasslands.
Naturally, the riverbanks of the Bandhavgarh region are extremely fertile and lush, which is why at least 300 species of flora can be found in both the core and buffer regions of the Bandhavgarh Tiger Reserve in India. Furthermore, some perennial streams and rivulets flow through the park's various crisscrossed zones, creating scenic vistas and growing importance to the jungle. Tourists and nature lovers will enjoy the beautiful scenery of this Indian Wildlife Park.
Among India's forested areas, only Kanha National Park is home to more than 200 different kinds of flowering plants. Sal (Shorea robusta) and other mixed forest trees coexist with meadows in this lowland woodland. A rich and diverse flora thrives in the Park because of the moderate and pleasant climate and varied topography. When it comes to trees, Kanha has more than 70 different kinds.
Kanha Tiger Reserve is widely regarded as Kipling's universe, the inspiration for his amazing imagination, and as a natural paradise for the creatures of the forest thanks to its abundance of verdant delights. Bamboo (Dendrocalamus strictus) can be seen growing naturally on the steeper slopes of Kanha's tropical moist dry deciduous woods. The deciduous forest is also home to the most well-known Indian Ghost Tree (Kullu).
Many grass species have been observed at Kanha in order to ensure the survival of the featured species of Barasingha (Cervus duvauceli branderi) in the reserve. In addition, some aquatic plants in numerous "tal" (lakes) provide a food source for migratory and wetland bird species.
Under the MP Forestry Project, some eco-development processes for the Kanha Reserve's buffer zone are being organized to preserve the floras. These activities are carried out by a number of eco-development committees, including 106 EDCs in the buffer zone and 25 in the core zone, as well as the Reserve Management.
Fauna of Bandhavgarh & Kanha
Bandhavgarh National Park features spectacular dense forest trails where visitors can encounter a wide variety of dazzling wild animals due to its combination of dry deciduous and tropical climate zones. Surprisingly, the area is home to over 22 species of mammals and 250 species of birds, with common langurs and rhesus macaques representing the primate group.
Previously, the Bandhavgarh reserve was known as Shikargarh and was kept as a game preserve where hunting was proudly carried out as well as with their protection.
White Tigers, Bengal Tigers, Leopards, Sambar, Barking Deer, Nilgai, Wild Boar, Gaur, Chausingha, Chinkara, Asiatic jackal, Bengal fox, sloth bear, ratel, gray mongoose, striped hyena, jungle cat, leopard, and tiger are among the faunas found at Bandhavgarh. Wild pig, spotted deer, samber, chausingha, nilgai, and chinkara are frequently sighted, as are mammals such as dhole, the small Indian civet, palm squirrel, and lesser bandicoot rat, as well as little grebe, egret, lesser adjutant, sarus crane, black kite, crested serpent eagle, black vulture, Egyptian vulture, common pe Cobra, krait, viper, ratsnake, python, turtle, and a variety of lizards, including Varanus, are among the reptilian fauna.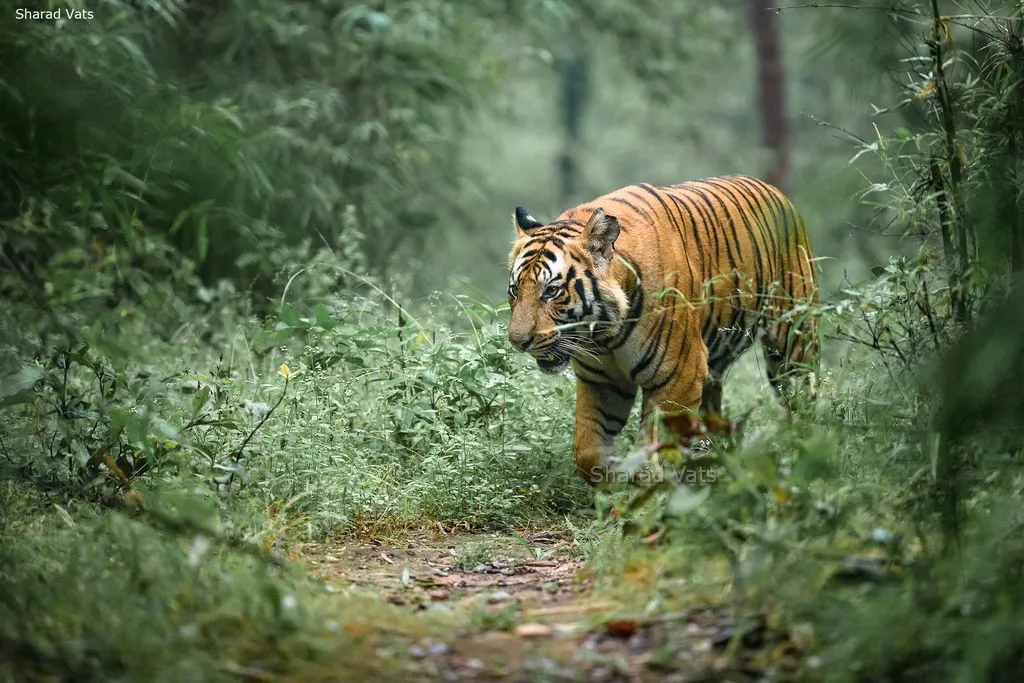 Aside from that, the park is home to a variety of bird species such as the Grey Hornbill, Common Teals, Red Jungle Fowl, and White Breasted Kingfisher, among others.
Kanha National Park is home to both herbivorous and carnivorous wildlife. This incredible reserve is home to an abundance of animal species. It is the only home of the rare hard ground Barasingha, also known as "the jewel of Kanha" and the most famous of the Indian Tigers.
Mammals found in Kanha National Park include the following: Tiger, Panther, Chital, Sambar, Barasingha, Blackbuck, Barking deer, Chousingha, Gaur, Langur, Wild pig, Jackal, Sloth bear, and Wild dog.
Python, Indian Cobra, Russell's Viper, Indian Krait, Common Rat Snake, Common Skink, Indian Monitor, Fan Throated Lizard, and Indian Garden Lizard are some examples of reptiles.
Giant Danio, Common Rasbora, Mud Perches, Brown Snakehead, and Green Snakehead are among the fish found.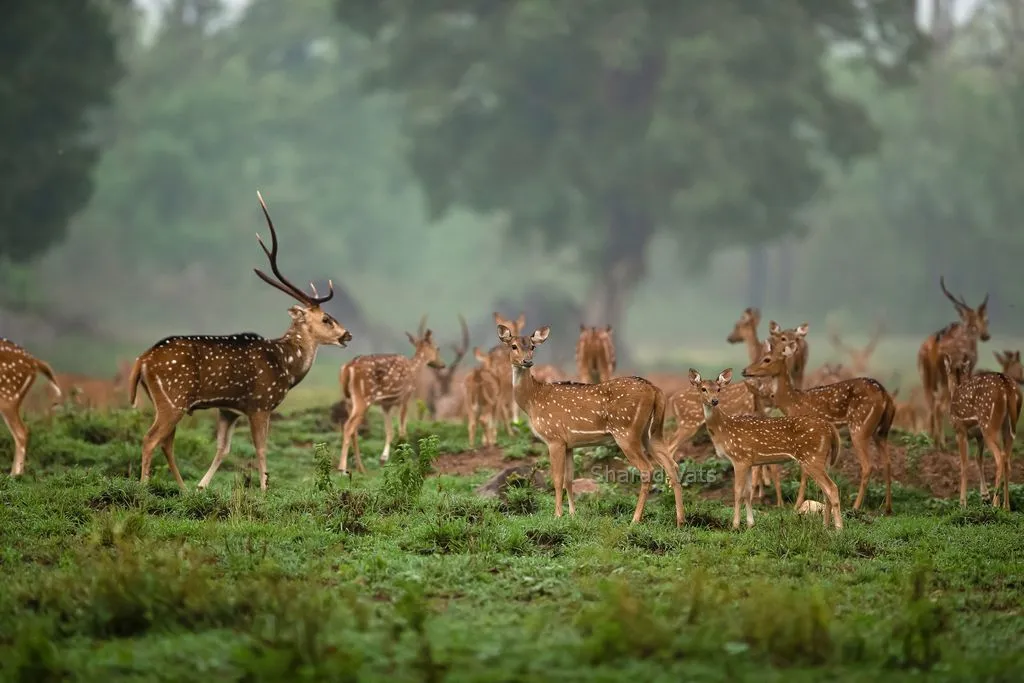 The Reserve is home to approximately 300 species of birds, the most common of which are the Black Ibis, Bee-eaters, Cattle Egret, Blossom-Headed Parakeets, Pond Heron, Drongos, Common Teal, Crested Serpent Eagle, Grey Hornbill, Indian roller, Lesser Adjutant Stork, Little Grebes, Lesser Adjutants, Lesser Whistling Teal, Minivets
Thousands of bird watchers and ornithologists may be drawn to this incredible bird paradise. Kanha National Park's mixed, bamboo, and grassy forests are ideal for bird watching. Surprisingly, some lovely water birds can be found near the reserve's rivulets and at Sarvantal.
Tiger Density & best time to visit Bandhavgarh vs Kanha
Bandhavgarh National Park is home to 60-70 tigers which makes it one of the best places for tiger safari tours in India. Covering a small land area, Bandhavgarh National Park holds a high density of tigers which improves the chance of spotting a tiger on a tiger safari tour in Bandhavgarh National park. Tigers are the key reason for visitors to visit this National Park, even the park sign is engraved with "Welcome to the land of tigers".
The best time to visit Bandhavgarh National Park is between October and March as the temperature is below 30°C and due to the past monsoon season, the park is full of green & elegant forests. Also, the migration of birds also attracts many tourists between October & March.
On the other hand, Kanha National Park provides shelter to around 130 tigers but due to the large land area of Kanha, the density of tigers in Kanha National Park is lower than in Bandhavgarh National Park, other than that Kanha is home to a variety of fauna and flora. Birds migrate to Kanha National Park which makes it a key spot for bird watchers.
The majority of tourists travel between November and March when the weather is mild (low to high 20s). Prepare for chilly mornings in December and January, but otherwise enjoy the abundance of barasinghas and tiger activity in the meadows that characterize the winter season.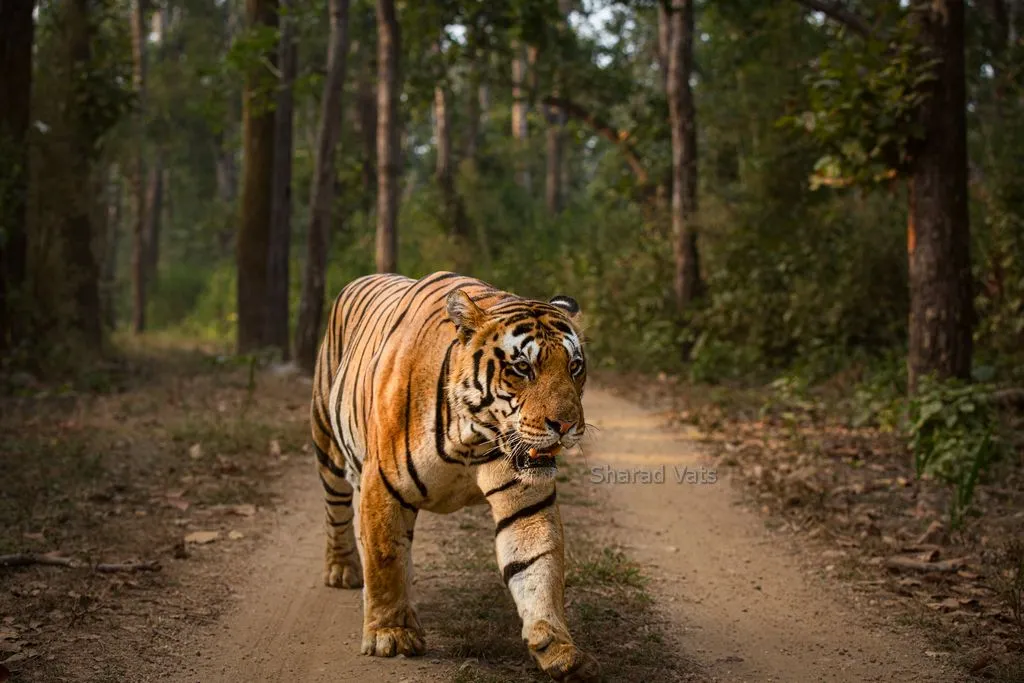 Explore tiger safari tours in India.
Attributes
Bandhavgarh National Park
Kanha National Park
Land Area
450 km² (105 km² core)
1005km² (940 km² core)
Tiger Population
60 – 70
110 – 130
Entry Gates
Tala Entry Point

Khitauli Entry Point

Magadhi Entry Point

Pachpedi Entry Point

Cechpur Entry Point

Parsai Entry Point

Khatia Entry Point

Sahri Entry Point

Mukki Entry Point

Rainfall
1133 mm (Jun-Sept)
1800 mm (Jun-Sept)
Forest Type
Dry Deciduous Forest
Lowland Woodland
Nearest Districts
Umarai District (34 kms)
Jabalpur (160 kms)