Sasan Gir or Gir National Park is considered as the 'Pride' of Gujrat. It is the last bastion of the Asiatic Lions on Planet Earth. Unlike your typical African savannah,Gir National Parkinhabits a landscape enclosed within rugged hills, forested valleys and dotted with grasslands and open scrubland. Though, the vegetation here isn't particularly dense; it maintains an ecological haven that serves as a sanctum for the last remaining population of one of the world's largest cats.
The prides of Lions here have grown accustomed to live in the proximity of humans, which makes them far more comfortable in the vicinity of safari vehicles as well. Not only is Gir National Park a thriving habitat for these regal beings, it is also extremely conducive for Leopards, Golden Jackals, Sambar and Chital Deer, the Four Horned Antelope, Nilgai and Chinkara.
Gir National Park also exhibits immense bird diversity too, with species such as the White Bellied Minivet, Painted Francolin, Painted and Chestnut-bellied Sandgrouse, Marshall's Iora, Indian Paradise Flycatcher, Rufous Fronted Prinia, Great Tit, Rufous-bellied and Yellow-eyed Babblers, Blackheaded Cuckooshrike, Black Hooded Oriole, Brown Capped Pygmy Woodpecker, Lesser Goldenback, along with Plum Headed Parakeets to name a few.
Gir National Park is also well known for the owls and birds of prey such as Mottled Wood Owl, Brown Fish Owl, Indian Eagle Owl, Spotted and Jungle Owlet, Bonelli's Eagle, Crested Hawk Eagle, Crested Serpent Eagle, Tawny Eagle and Eastern Imperial Eagle.
When we think of the Asiatic Lion in particular, the species that was once on the brink of extinction has gradually gained numbers over the last 30 years. The lion has always been known for its title, 'The King of the Jungle'. However, in the last century, they have faced threats in the form of habitat loss, poaching, interbreeding, and disease.
Despite this glaring peril, there has been a gradual rise in numbers by nearly 30% in the last 5 years. Not only have their numbers gone up, but their home range has extended from 22,000 sq km to 30,000 sq km in the 9 districts of the Saurashtra region. To witness this surge in these regal beings, there is no better place than Gir National Park to undertake a quest to see the highly sociable Big Cats of India.
If you ask about the best time to visit this National Park, the Gir National park stands closed from June to October every year, however, the best time to head out for a safari in this national park stands between the months of December – March. And if the months of April and May are taken into consideration, the climate during these months stands very hot but, these are considered as the best months for wildlife viewing and photography.
Tiger Tours in Gir National Park
Explore some of the best Tiger Safari Tours in Gir, guided by our expert team…
A hilly area of arid scrubland is where Gir National Park is situated, around 37 miles (60 km) south-southwest of Junagadh in Gujarat state, west-central India. It covers around 500 square miles of land (1,295 square km). Teak dominates the vegetation, with thorn forests, sal (Shorea robusta), dhak (Butea frondosa), and other deciduous trees mixed in.
A sanctuary designation was given to the Gir Forests Reserve in 1965. The reserve was established in 1913 to safeguard the largest of the remaining populations of Asiatic lions. Since it was founded, the sanctuary has produced hundreds of Asiatic lions. Visitors can frequently attend "lion shows," which are essentially protected car trips. Leopards, wild pigs, spotted deer, nilgai (a species of antelope), four-horned antelopes, and chinkaras are among the other animals (a type of gazelle). A few crocodiles are present in a sizable centre water hole. Near the Tulsi-Shyam Springs is a modest Krishna shrine in the park.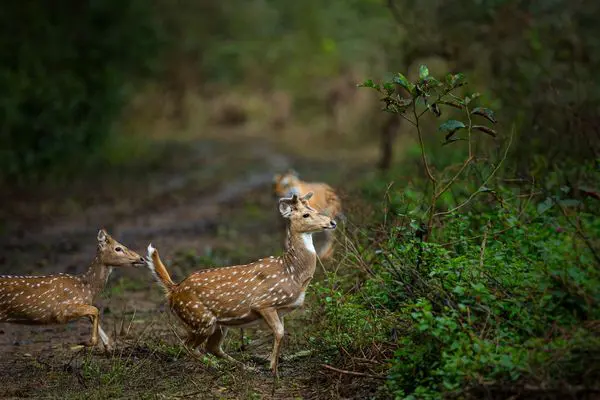 Top Species in Gir National Park
Please fill the form below and our team will get back to you within 24 hours with a perfect safari package.