As a wildlife tour operator, we are often asked by our guests about the best and most beautiful national parks in India where they can enjoy the best of wildlife and landscape. We, therefore compiled a list of India's most beautiful national parks for you all to choose your next wildlife tour. The comparison and rating are done on the basis of area, landscape, wildlife, flora, and water bodies present in the park. Also, you can find all related tours below. Read our blog post on the best places for tiger safari in India, if you are still looking to find one.
Jim Corbett National Park
"The book of nature has no beginning, as it has no end. Open this book where you will, and at any period of your life, and if you have the desire to acquire the knowledge you will find it of intense interest, and no matter how long or how intently you study the pages, your interest will not flag, for in nature there is no finality." ― Jim Corbett
Area of Jim Corbett National Park:
The park itself has 201 square miles of area (521 square km). It is a part of the larger Corbett Tiger Reserve, which spans 497 square miles and includes other protected areas (1,288 square km).
The landscape of Jim Corbett National Park:
Jim Corbett National tucked away in the Sub-Himalayan foothills, has captured the interest of many wildlife enthusiasts with its diverse animals and stunning surroundings. Corbett has earned the distinction of being the first national park to be formed in southern Asia. It was officially established as Hailey National Park in the year 1936. Edward James Corbett, a British hunter who was crucial in its establishment, identified the area's natural beauty. The mountains that surround Jim Corbett National Park provide a wide variety of habitats because of the variations in altitude, relief, and temperature. Mountain species of vegetation and animals therefore differ and have unique characteristics. They demonstrate very diverse behavior from that of other inhabitants of the animal population that live in various national parks around the nation. Browse tiger safari tours in Corbett here.
The Himalayan Mountain system has a direct influence on Jim Corbett National Park's characteristics. As far as the geographical boundary is concerned Corbett's northern area is marked by the Lesser Himalayan. Crystalline rocks make up the lesser Himalayas. These mountains have an average elevation of 1800 meters, making them quite high. Corbett's sal-dominated region contains woody vegetation, while the remaining areas have a variety of tree species like oak, pine, and rhododendron.
However, the majority of the park is located in southern Shiwalik or outside the Himalayan area. Shiwaliks, which span from Dhangarhi to Kalagarh in an east-to-west direction, comprise the park's greatest ridge because the upper tertiary rocks there are exposed. Sal woods and other companions cover these mountains.
Wildlife in Jim Corbett National Park:
The park was established primarily to safeguard Royal Bengal Tigers (Panthera tigris Tigris); it is also where India's Project Tiger, which was started in 1973 to create safe havens for tigers in India's national parks, was launched. Langurs, sloth bears, Asiatic black bears, Indian grey mongooses, jungle cats, elephants, wild boars, chitals (spotted deer), barking deer, and nilgai (Indian antelope) are some of the other wildlife that can be seen in the park. Numerous snake species (including cobras and pythons) and crocodile species are reptiles and amphibians (notably gavials and muggers). There are at least 600 permanent and migratory bird species known, including peafowl, shikras (Levant sparrowhawks), black partridges, golden orioles, red jungle fowl, and black-crowned night herons.
Flora in Jim Corbett National Park:
Sal (Shorea), teak, oak, silver fir, spruce, cypress, birch, and bamboo are among the tree species that make up the forest cover. To provide the animals of the park with natural cover, a reed forest was established.
Water bodies in Jim Corbett National Park:
Jim Corbett Jungle is blessed with the Ramganga River which nourishes this national all around the year. Corbett National Park encompasses the large Patlidoon Valley, through which the westward-flowing Ramganga River passes. To create a sizable reservoir in the center of the reserve area and along the western border of the park, the river was dammed near the park's western end.
Explore our Tiger Safari Tours in India.
Kanha National Park
"Sitting on the epitome of conservation. This national park has been awarded as one of the best-managed national parks in India. Bringing out Hard Ground Barasingha also referred to as Jewel of Kanha from the verge of extinction to 600-700 in numbers or even more in numbers in present time"
Area of Kanha National Park:
Kanha Tiger Reserve, also known as Kanha-Kisli National Park, is one of the largest national parks in India and tiger reserves in the state of Madhya Pradesh. The present Kanha region is split into two 250 and 300 km2 (97 and 116 sq mi)long protected zones, Hallon and Banjar, respectively. On June 1st, 1955, Kanha National Park was established, and in 1973 it was declared a tiger reserve. It now spans 940 km across the two districts of Mandla and Balaghat. It constitutes the Kanha Tiger Reserve, one of the largest in the nation, together with a 1,067 km2 (412 sq mi) buffer zone and the nearby 110 km2 (42 sq mi) Phen Sanctuary. As a result, it is central India's largest national park.
The landscape of Kanha National Park:
The topography of Kanha supports Sal and Bamboo forest, Grasslands, scrub-thorn arid forests, rocky landscapes, tropical forests, rocks, plateaus, meadows, and valleys. Meadows, or maidans, are essentially open grasslands that have cropped up in fields of abandoned villages that have been evacuated to make way for the animals. They are abundant in Kanha. Kanha National Park is formed like a figure "8" on its side, measuring around 80 km from west to east and 8 to 35 km wide. The Park has a total size of 1945 square kilometers, divided between a 940 square kilometers core region and a 1,005 square kilometers buffer zone. There are more than 255 communities within a 10 km radius and about 155 settlements in the buffer zone.
For easier administration, the park has also been split into 6 ranges: the western block contains the Kisli, Kanha, Sarhi, and Mukki ranges, while the eastern block, which is off-limits to the public, has the Bhaisanghat and Supkhar ranges. Bamni Dadar: This plateau in the Kanha National Park is renowned for being the highest. It was initially used to land British officials who were interested in going on jungle safaris and going hunting for big animals. From the Bamni Dadar's elevated platform, one may enjoy the stunning sunset across the plains of Bishanpura, Ghorella, Qurai, and Mukki. Shravan Tal: This location, which lies in the middle of the Kanha National Park, is associated with the legend that King Dashratha accidentally murdered Shravan Kumar there.
Wildlife in Kanha National Park:
Langurs, wild dogs, tigers, lions, leopards, wild pigs, barking deer, chitals, sambars, swamp deer, gaur, quail, red and grey jungle fowl, and peafowl may all be found in Kanha National Park. Barasingha (Cervus duavcelli branderi) is adapted to hard ground. The park's grasslands and waterholes are home to the gaur (Bos gaurus). Blackbuck is now exceedingly hard to find. Around 300 different bird species may be found in the reserve, including the most common birds.
Flora in Kanha National Park:
Over a thousand different flowering plant species may be found in Kanha Tiger Reserve. Sal (Shorea robusta) and other mixed-forest trees grow in the lowland forest, which is interspersed with meadows. The bamboo (Dendrocalamus strictus) on slopes is radically different from the tropical damp, dry deciduous variety of highland forests. There is also a well-known Indian ghost tree (Davidia involucrata) in the deep jungle.
Water bodies in Kanha National Park:
The Hallon River and the Banjar River are two rivers that constitute the Kanha Tiger Reserve, which is situated in the districts of Mandla and Balaghat. These rivers are regarded as the forest's lifelines. Due to human encroachment, the rivers often dry up in the summer season, and to compensate for this forest department has made up many artificial water bodies for wildlife to save them from less availability of water in the rivers.
Panna National Park
"Sitting This national park is credited with bringing back tigers, who had become extinct in the area, and has since increased their population to over 50. Panna is a success story for the reintroduction of tigers, and it is now renowned for providing outstanding results in an exceptional increase in the number of felines there. Panna was declared a UNESCO Biosphere Reserve in November of 2020."
Area of Panna National Park:
Panna National Park is located in the Indian state of Madhya Pradesh's Panna and Chhatarpur districts. It was established in 1994 and is now Madhya Pradesh's fifth and the country's twenty-second Tiger reserve overall. It has an area of 542.67 km2 (209.53 sq mi). The reserve is situated on each side of the Ken River, which runs through the Lower Vindhyan Formations of the park from south to north.
The landscape of Panna National Park:
Located in a series of hills and plateaus of Chandranagar Range. The Ken River is a tributary of Yamuna's most polluted river of India and still, Ken can be said to be the cleanest river in this region. It is a perennial source of water for all living creatures around this region. The river makes a boundary between Panna and Chatarpur districts. One of the areas of this tiger reserve that is the least affected by human encroachment is the Hinouta Plateau, which permitted the displacement of villages from the region in 1980 to make room for the establishment of this tiger reserve. The park's surface is highlighted by vast gouges and plateaus. The park's topography is diverse and may be separated into three distinct tablelands: the higher Talgaon Plateau, the Ken Valley, and the middle Hinauta Plateau.
The only significant portion of animal habitat left in northern Madhya Pradesh is Panna National Park and its adjacent forest region, which includes both the North and South Panna forest divisions. The woods of Panna National Park, Ken Gharial Sanctuary, and other territorial divisions make up a sizeable portion of the 406 km (252 mi) catchment area of the Ken River, which flows through the park for roughly 72 km (45 mi) to the northeast.
Wildlife in Panna National Park:
The Bengal tiger, Indian leopard, chital, chinkara, nilgai, Sambar deer, sloth bear, rusty-spotted cat, and Asian palm civet are among the creatures that may be found here. More than 200 different bird species may be seen in the park, including the Indian vulture, red-headed vulture, blossom-headed parakeet, bar-headed geese, and crested honey buzzard.
Flora in Panna National Park:
There are many different types of plants growing on these plateaus, including tendu (Diospyros melanoxylon), salai (Bosswelia serrata), mahua (Madhuca indica longifolia), ghont (Ziziphus xylopyrus), achar (Buchanania lanzan), kardhai (Anogeissus pendula), ber (Ziziphus mauritian Numerous of them seem to bloom or bear fruit in March, attracting a profusion of birds as well as sloth bears, which are typically nocturnal but were active during these days feeding.
Water bodies in Panna National Park:
One of the least polluted rivers and a tributary of the Yamuna, the Ken river runs through the Reserve from south to north and is home to Gharial, Mugger, and other aquatic animals. It is one of Madhya Pradesh's sixteen perennial rivers and the Reserve's lifeblood.
Also Read: How to Reach the National Parks of India.
Ranthambhore National Park
Area of Ranthambhore National Park:
With a 1,334 km2 (515 sq mi) size, Ranthambore National Park is in Rajasthan, India. The Chambal River and the Banas River form its northern and southern boundaries, respectively. It is named after the historic Ranthambore Fort, which lies within the park. The national park covers a total area of 392 km2, including the buffer zone. The core zone is around 275 km2. The size of the tiger reserve was around 334 km2. It now has an area of 1334 km2.
The landscape of Ranthambhore National Park:
There are wide grassy meadows and dry deciduous trees in Ranthambore National Park. The elevation is about 215 to 505 meters above mean sea level. The area has rocky terrain, open bushland, and deep tropical dry forest, with lakes and streams dotted throughout. Khathiar-Gir dry deciduous woods are part of the ecoregion. The largest lake in the park is called Padam Talao. At the shore of the lake lies a Jogi Mahal made of red sandstone. Near the lake lies a massive banyan tree that is thought to be the second biggest in all of India. In comparison to the numerous other tiger reserves in India, this one is relatively small in size. Because of this, tiger sightings are simpler site good compared to other parks. Ranthambore is one of the most popular parks in the nation and offers a good possibility of seeing the beautiful tiger because its forest is dry for around nine months out of the year. The number of tigers in the park is presently approximately 63, of which 40–45 are adults and the others are cubs and semi-adults. Since the tigers at Ranthambore are often diurnal, it is easy to view them during the day, when tourists are on safari.
Wildlife in Ranthambhore National Park:
Ranthambore National Park is home to deciduous forests and a variety of animals, including Tigers, Leopards, Striped Hyenas, Sambar deer, Chital, Nilgai, Common or Hanuman langurs, Macaques, Jackals, Jungle cats, Caracals, Sloth bears, Black bucks, Rufous-tailed Hare, Indian Wild Boar, Chinkara, Common Palm Civets or Toddy cat, Indian Flying Foxes, Indian Foxes, Indian Gerbilles, Indian Mole Rats, Indian Porcupines, Long-eared Hedgehogs, Ratels, Small Indian Mongoose, Small Indian Civets etc.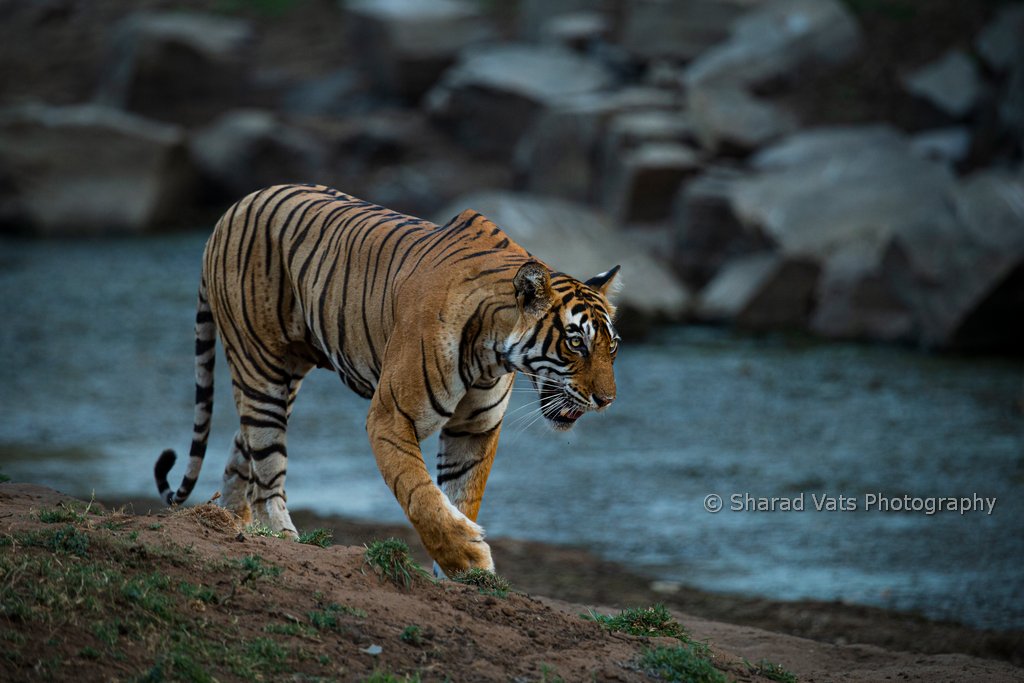 Flora in Ranthambhore National Park:
One of India's largest banyan trees may be found at the sanctuary along with a broad variety of other trees, and plants. The majority of the vegetation of Ranthambore is of the mixed deciduous variety, which comprises trees, shrubs, grass, and around 539 kinds of flowering plants.
Water bodies in Ranthambhore National Park:
It is bounded to the north by the Banas River and to the south by the Chambal River.
Nagarhole National Park
Area of Nagarhole National Park:
Nagarahole occupies 847.981 square kilometers and is located in Mysore and Kodagu. The Nagarahole Tiger Reserve, originally known as the Rajiv Gandhi (Nagarahole) National Park, is a national park in the Indian state of Karnataka's Kodagu and Mysore districts. In 1999, this park was designated as India's 37th tiger reserve. The Nilgiri Biosphere Reserve includes it. The UNESCO World Heritage Committee is considering designating the whole 6,000 km2 (2,300 sq mi) Western Ghats Nilgiri sub-cluster, which includes Nagarhole National Park, as a World Heritage Site.
The landscape of Nagarhole National Park:
It lies between the latitudes 12°15'37.69″N and longitudes 76°17'34.4″E. The park covers 643 km2 (248 sq mi) located to the northwest of Bandipur National Park. The park extends from the foothills of the Western Ghats down toward Kerala State and the Brahmagiri highlands. The two parks are divided by the Kabini reservoir. The park's elevations range from 687 to 960 meters (2,254 to 3,150 ft). It is 220 kilometers (137 miles) from Bengaluru, the capital of Karnataka, and 50 kilometers (31 miles) from Mysore, a significant city. It is well-known for its tiger sightings and has some of the densest animal and plant populations. The forest itself has hills, valleys, and streams, making it incredibly lovely.
In the summer, the banks of the Kabini provide a magnificent view. During the dry season, the river recedes and its banks turn into a beautiful carpet of grass, serving as an elephant gathering place. It has been known as the greatest congregation of Asian elephants in the world because to this annual gathering of more than 1,000 odd pachyderms in the forests of Nagarhole.
Wildlife in Nagarhole National Park:
Bengal Tigers, Leopards, and the world's biggest herd of Asiatic elephants all call the sanctuary home. It supports a variety of smaller, common and unique plants, animals, birds, and reptiles, including migratory birds, reptiles, guars, deer, antelopes, wild dogs, and bears. The Black Panthers, in particular Baghira, have become quite well-known and have drawn a lot of tourists. It takes a lot of luck to see this lovely and endangered wild cat.
Flora in Nagarhole National Park:
Along with other trees like sandalwood and Silver Oak, the towering rosewood and teak trees are the dominant species in the jungle. Dhanvana trees (Grewia tiliaefolia), which elephants prefer for their juicy bark and which are highly valued in Ayurveda for their antipyretic effects, are prevalent in these woodlands. Additionally, it includes teak trees and the diabetes-controlling Indian kino (Pterocarpus marsupium). Another prevalent plant in this area is the axle wood tree (Anogeissus latifolia), which is collected for its gum and tannins and used locally to cure scorpion and snake bites. Lantana and the invasive plant Eupatorium odoratum have taken over other areas of the woodland.
Water bodies in Nagarhole National Park:
The park receives an annual rainfall of 1,440 millimetres (57 in). Lakshmmantirtha River, Sarati Hole, Nagar Hole, Balle Halla, Kabini River, 47 seasonal streams, 4 tiny perennial lakes, 41 man-made tanks, several wetlands, Taraka Dam, and Kabini reservoir are some of its water sources.
Explore our Tiger Safari in India Tours.